A vintage farmhouse inspired playroom and family room bonus space decorated for Christmas with a nostalgic childhood, vintage toy theme.
I am sharing our bonus room for the Farmhouse decor series today and I will link to everyone participating below! You will love their homes! If you are coming over from Maison de Pax, welcome! I am so glad you are here!
Our bonus room is our main family and multi-purpose space. It is a very large (long) room that we have split into two functional spaces. On one end, we have our family room and on the other a playroom. I always love putting up my Christmas tree in this room each year because it feels so magical to me. Children really are the magic of Christmas.
I put my red plaid pillows up here this year and they match so perfectly with the tree. These old Children's books are a favorite of mine too.
Over the years, I have collected some vintage toys and some family keepsakes for my vintage toy tree. My little ones love to help me decorate and play with each of the pieces. I have vintage toys, metal bells, giant wooden buttons, airplanes, bicycles, teddy bears, vintage pennants, ribbon, and these adorable vintage grainsack stars from Sew a Fine Seam.
Little touches of childhood.
On the playroom side of our bonus room, I have a very functional space for our littles. We built shelves into the wall with baskets of their toys.
I built them a table up here a couple years ago to go with their collection of vintage wooden children's chairs- the perfect spot to write letters to Santa!
On the other side of the room, I added an antique pine bed as a reading nook. The kids love their play space- especially decorated for Christmas!
I love touches of vintage images in my Christmas decor.
You can shop my post here:

I know you will love these other homes in our Farmhouse tour today! The next stop is my sweet and wonderful friend Bre's (Rooms for Rent) lovely home. You will love her!
Monday's Posts: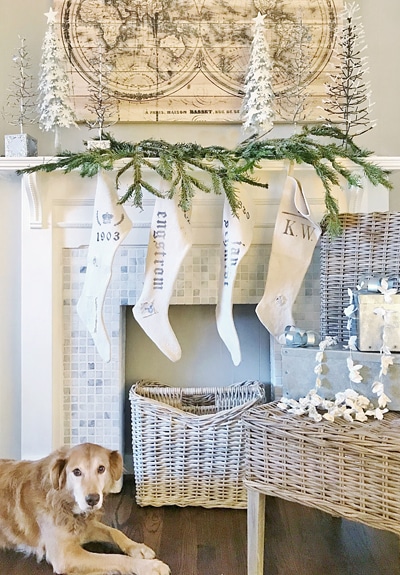 Thistlewood Farms
And ou can catch up with the rest of the homes here:
Monday's Posts:
Maison de Cinq | Boxwood Avenue | Ella Claire | Rooms for Rent | Maison de Pax | Farmhouse on Boone | Thistlewood Farms
Coming Tuesday:
Miss Mustard Seed
Love Grows Wild
Cami Tidbits
Liz Marie Blog
So Much Better with Age
Mountain View Cottage
Lauren McBride
As an Amazon Associate I earn from qualifying purchases.